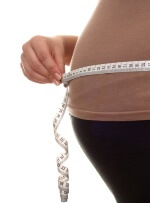 The Effects of Obesity in Labor and Delivery and NICU
As the obesity epidemic escalates in America, more and more problems emerge. Not only is obesity taxing healthcare resources, but it is also creating a vicious cycle of dangerous habits that are being passed through generations.
Obese mothers are often the start of the problem. By entering into pregnancy severely overweight, women are putting their babies at risk, increasing the chances of complications and time spent in the NICU.
Diets of fast food and sedentary lifestyles have contributed to the increase in overweight and obese Americans. In the last 30 years, obesity has more than doubled in children and quadrupled in adolescents, according to the Centers for Disease Control and Prevention (CDC).
While more than one-third of the adult population in the United States is obese, the CDC reports that nearly 60% of women in the U.S. enter pregnancy above a normal weight, causing serious concerns among healthcare professionals.
NICU and L&D travel nurses know that obese mothers can experience pre-eclampsia, eclampsia and gestational diabetes, and babies born to obese mothers are at higher risk of suffering from birth defects. Sadly, obesity also significantly increases the chances of stillborn births.
If all women were a healthy weight at pregnancy, the CDC estimates that every year we could prevent nearly 3,000 heart defects, approximately 400 spina bifida defects and about 7,000 stillbirths.
The risks for an obese mother and child can also affect the hospital's resources before and during delivery:
•    Labor induction and C-sections are more common for obese women, and with C-sections, complications more likely.
•    Obesity increases the risk of overdue pregnancies, urinary tract and postpartum infections.
•    During delivery, pain medications such as epidural blocks may not work as effectively.
But the mothers aren't the only ones at risk. For L&D RNs, obese patients pose both physical and mental challenges:
•    Back strain from moving obese patients
•    Stress from worrying about the outcome of the pregnancy
•    Difficulty identifying problems during ultrasound exams as a result of excess fat
Travel nurses can help expectant mothers improve their chances of healthy births through education and support. With proper planning in advance of pregnancy, especially for obese women, the risks of health complications for mother and child can be reduced. 
Thanks to exceptional L&D and NICU nurses who work closely with patients, and increased awareness about the risks of obesity, more is being done to prevent complications and help patients pass on healthier choices to their children.