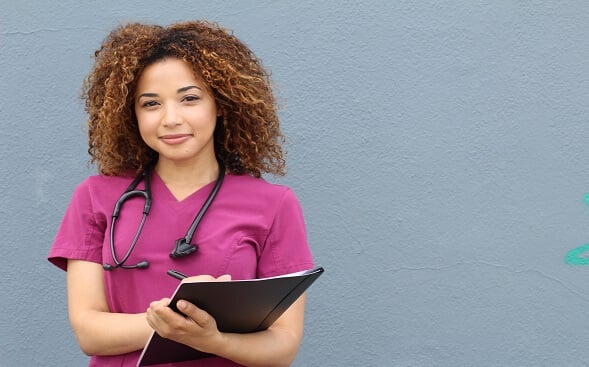 Why Pursue Your Nursing Certifications
Each year, nurses across the country earn or renew nursing specialty certifications, a national recognition of a nurse's skill, knowledge and experience.
"Nurses can validate their competency, a mastery of knowledge, skills and ability, through certification," said Michele Dickens, PhD, RN, online RN-to-BSN program director at Campbellsville University in Kentucky. "Through recertification, they can meet ongoing learning and practice requirements."
FIND current jobs in your nursing specialty with American Mobile.
8 Benefits of Nurse Certifications
1. Increased Earnings and Opportunities
The National Organization for Competency Assurance (NOCA) identifies many benefits to nursing certification, including higher nursing salaries, greater prestige, and enhanced job opportunities.
2. Career Advancement
"Employers value certification and certification can lead to career advancements through clinical ladders or promotions," said Lynn Orser, MSN, RN, PCCN, CCRN, critical care educator at St. Vincent's Medical Center in Bridgeport, Conn., and a member of the American Association of Critical-Care Nurses (AACN).
3. Proficiency in Your Nursing Specialty
Deborah Lorick. RN, MSN-MPH, OCN, CMSRN, a nurse manager at Antelope Valley Hospital in Lancaster, Calif., added, "We feel [certification] promotes excellence in nursing and demonstrates a knowledge and proficiency in your specialty."
4. Expertise to Handle Complex Cases
Antelope Valley CNO Aya Smith, RN, MSN, CCRN, indicated that she would like to hire more certified nurses and elevate current nurses' knowledge with certification. Nursing is becoming more complex, she explained, and certified nurses have the expertise to care for patients with multifaceted needs and disease processes. It also elevates the hospital's service lines to employ certified nurses.
5. Career Mobility (Including More Job Offers)
Linda Roney, EdD, RN-BC, CPEN, CNE, an assistant professor at the EGAN School of Nursing and Health Studies at Fairfield University in Connecticut, obtained her first pediatric certification to validate her knowledge and expertise. Her later emergency pediatric nurse certification led to greater career mobility and opportunities. She said certification can move your application ahead, whether at a hospital or with a travel nurse recruiter.
CONTACT American Mobile to learn more about the requirements for travel nursing jobs.
Registered nurse certification also creates a more productive workforce for employers and protects patients, according to NOCA.
6. Better Patient Outcomes
Linda Aiken, PhD, RN, FAAN, at the University of Pennsylvania School of Nursing in Philadelphia, published a study in the Journal of Nursing Scholarship in 2011 that found nursing specialties certification was linked with better patient outcomes and improved quality of care. Specifically, a 10 percent increase in nurses with certification was associated with a 2 percent decrease in 30-day mortality.
7. Essential Step in Professional Development and Leadership
William Rosa, MS, RN, LMT, AGPCNP-BC, AHN-BC, CCRNCMC, a palliative medicine fellow at Memorial Sloan Kettering Cancer Center, New York, and an ANCC member, added that he considers nursing certification "an essential part of professional development" and the "first step in being an advocate, change agent, leader, and expert."
8. Continual Learning Through Recertification
Through the renewal process, registered nurse certifications promote continued learning and help to advance the nursing profession, added Marianne Horahan, MBA, MPH, RN, NEA-BC, CPHQ, director of certification services at the American Nurses Credentialing Center.
"Certification creates a framework where you achieve professional fitness through lifelong learning," Horahan said.
Join the Growing Trend of Nursing Certifications
AACN reports that more than 750,000 nurses in the United States and Canada held certifications in 2016, which was an increase of more than 51,000, or 7 percent, over 2015, according to data collected by the American Board of Nursing Specialties.
Different organizations offer a variety of certifications, and each certification may have differing requirements for experience in the specialty and educational level before a candidate can sit for an exam. In addition to registered nurse certification, some boards also offer certification for LPNs/LVNs and advanced practice nurses.
Dickens advised nurses to carefully consider their goals and the requirements of the certification they are seeking. Roney said many healthcare employers support certification and will reimburse for the preparation course or test, but the exams and certifying bodies may be limited. She recommended nurses check with their employers first and take advantage of certification benefits.
"Go for it," Roney said. "Put the time into studying. Your patients are worth it, and you are certainly worth it."
Nursing Certifications Available
Addictions Nursing Certification Board
CARN – Certified Addictions Registered Nurse
American Association of Critical Care Nurses Certification Corporation
CRN – Acute/Critical Care Nursing (Adult, Pediatric & Neonatal)
CCRN-E – Tele-ICU Acute/Critical Care Nursing (Adult)
PCCN – Progressive Care Nursing (Adult)
CNML – Nurse Manager and Leader
CCRN-K – Acute/Critical Care Knowledge Professional (Adult, Pediatric & Neonatal)
PCCN-K – Progressive Care Knowledge Professional (Adult)
Subspecialty Certifications
CMC – Cardiac Medicine (Adult)
CSC – Cardiac Surgery (Adult)
Advanced practice certifications are also available
American Association of Diabetes Educators
BC-ADM – Board Certified-Advanced Diabetes Management
American Association of Heart Failure Nurses
CHFN – Certified Heart Failure Nurse
CHFN-K – Non-Clinical Certified Heart Failure Nurse
American Board of Managed Care Nursing
CMCN – Certification in Managed Care Nursing
American Board of Neuroscience Nursing
CNRN – Certified Neuroscience Registered Nurse
SCRN – Stroke Certified Registered Nurse
American Board of Certification for Gastroenterology Nurses
CGRN – Certified Gastroenterology Registered Nurse
American Board for Occupational Health Nurses
COHN – Certified Occupational Health Nurse
COHN-S – Certified Occupational Health Nurse-Specialist
CM – Occupational Health Nursing Case Management
American Board of Perianesthesia Nursing
CAPA – Certified Ambulatory Perianesthesia Nurse
CPAN – Certified Post Anesthesia Nurse
American Correctional Association
CNN – Certified Corrections Nurse
CNN/M – Certified Corrections Nurse/Manager
CHSA – Certified Health Service Administrator
CBHC – Correctional Behavioral Health Certification
American Holistic Nurses Credentialing Corporation
HN-BC – Holistic Nurse, Board Certified
HNB-BC – Holistic Baccalaureate Nurse, Board Certified
AHN-BC – Advanced Holistic Nurse, Board Certified
APHN-BC – Advanced Practice Holistic Nurse, Board Certified
NC-BC – Nurse Coach, Board Certified
HWNC-BC – Health and Wellness Nurse Coach, Board Certified
American Legal Nurse Consultant Certification Board
LNCC – Legal Nurse Consultant Certified
American Nurses Credentialing Center
Specialty Certifications RN-BC:
Ambulatory Care Nursing
Cardiac-Vascular Nursing
Faith Community Nursing
Gerontological Nursing
Genetics Nursing - Advanced
Hemostasis Nursing
Informatics Nursing
Medical-Surgical Nursing
Nursing Case Management
Nursing Professional Development
Pain Management Nursing
Pediatric Nursing
Psychiatric-Mental Health Nursing
Public Health Nursing - Advanced
Rheumatology Nursing
School Nursing
Advance practice specialty certifications also available for:
Nurse Practitioners (NPs) and
Clinical Nurse Specialists (CNSs)
American Organization of Nurse Executives
CENP – Certified in Executive Nursing Practice
CNML – Certified Nurse Manager and Leader
Board of Certification for Emergency Nursing
CEN – Certified Emergency Nurse
CFRN – Certified Flight Registered Nurse
CPEN – Certified Pediatric Emergency Nurse
CTRN – Certified Transport Registered Nurse
TCRN – Trauma Certified Registered Nurse
Certification Board of Infection Control and Epidemiology
CIC – Certified in Infection Control
Certification Board for Urologic Nurses and Associates
CUNP – Certified Urologic Nurse Practitioner
CURN – Certified Urologic Registered Nurse
CUA – Urologic Associate
Commission on Nurse Certification
CNL – Clinical Nurse Leader
Competency & Credentialing Institute
CNOR – Certified Nurse, Operating Room
CRNFA – Certified Registered Nurse First Assistant
CNS-CP – Clinical Nurse Specialist Perioperative Certification
Dermatology Nursing Certification Board
DNC – Dermatology Nurse Certified
HIV/AIDS Nursing Certification Board
ACRN – HIV/AIDS Certified Registered Nurse
AACRN – Advanced HIV/AIDS Certified Registered Nurse
Hospice & Palliative Credentialing Center
CHPN – Certified Hospice and Palliative Nurse
ACHPN – Advanced Certified Hospice and Palliative Nurse
CHPPN – Certified Hospice and Palliative Pediatric Nurse
Infusion Nurses Certification Corporation
CRNI – Certified Registered Nurse Infusion
International Association of Forensic Nurses
SANE-A – Sexual Assault Nurse Examiner-Adult/Adolescent
SANE-P – Sexual Assault Nurse Examiner-Pediatric
AFN-BC – Advanced Forensic Nursing
Medical-Surgical Nursing Certification Board
CCCTM – Certified in Care Coordination and Transition Management
CMSRN – Certified Medical-Surgical Registered Nurse
National Board of Certification and Recertification for Nurse Anesthetists
CRNA – Certified Registered Nurse Anesthetist
National Asthma Education Certification Board
AE-C – Certified Asthma Educator
National Association for Healthcare Quality
CPHQ – Certified Professional in Healthcare Quality
National Board for Certification of School Nurses
NCSN – National Certified School Nurse
National Certification Board for Diabetes Educators
CDE – Certified Diabetes Educator
The National Certification Corporation
RNC-OB – Inpatient Obstetric Nursing
RNC-MNN – Maternal Newborn Nursing
RNC-LRN – Low Risk Neonatal Nursing
RNC-NIC – Neonatal Intensive Care Nursing
Subspecialties
C-EFM – Electronic Fetal Monitoring
C-NPT – Neonatal Pediatric Transport
National Certifying Board for Ophthalmic Registered Nurses
CRNO – Certification for Registered Nurses of Ophthalmology
National Certifying Board of Otorhinolaryngology and Head-Neck Nurse
CORLN – Certified Otorhinolaryngology Nurse
National Commission on Correctional Health Care
CCHP-RN – Certified Correctional Health Professional-RN
CCHP-A – Certified Correctional Health Professional-Advanced
CNE – Certified Nurse Educator
Nephrology Nursing Certification Commission
CNN – Certified Nephrology Nurse
CDN – Certified Dialysis Nurse
Oncology Nursing Certification Corporation
AOCN – Advanced Oncology Certified Nurse
CPON – Certified Pediatric Oncology Nurse
OCN – Oncology Certified Nurse
CPHON – Certified Pediatric Hematology Oncology Nurse
CBCN – Certified Breast Care Nurse
BMTCN – Blood & Marrow Transplant Certified Nurse
Orthopaedic Nurses Certification Board
ONC – Orthopaedic Nurse Certified
Pediatric Nursing Certification Board
CPN – Certified Pediatric Nurse
CPEN – Certified Pediatric Emergency Nurse
PMHS – Pediatric Primary Care Mental Health Specialist
Plastic Surgical Nursing Certification Board
CPSN – Certified Plastic Surgical Nurse
CANS – Certified Aesthetic Nurse Specialist
Radiologic Nursing Certification Board
CRN – Certified Radiologic Nurse
Rehabilitation Nursing Certification Board
CRRN – Certified Rehabilitation Registered Nurse
Society for Clinical Research Excellence
CCRP – Certified Clinical Research Professional
Wound Ostomy and Continence Nursing Certification Board
CCCN – Certified Continence Care Nurse
COCN – Certified Ostomy Care Nurse
CWCN – Certified Wound Care Nurse
CWOCN – Certified Wound Ostomy Continence Nurse
CWON – Certified Wound Ostomy Nurse
CFCN – Certified Foot Care Nurse
AMERICAN MOBILE, an AMN Healthcare company, leads the travel nursing industry with thousands of job opportunities for certified nurses and other qualified nurse candidates.
APPLY to get started in the next stage of your nursing career!