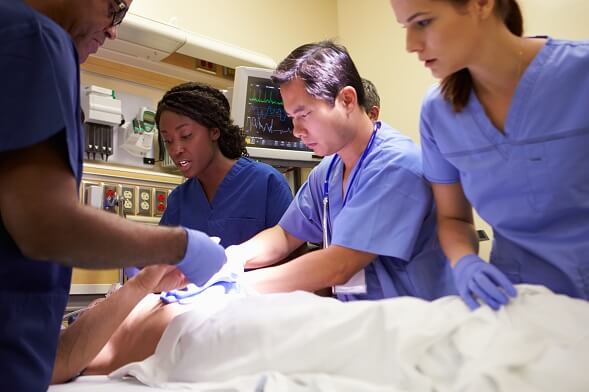 Pros and Cons of Emergency Room Nursing
Emergency departments are fast-paced, stressful work environments. Medical staff members are often unfamiliar with each other's skills and work styles, but everyone must quickly learn to work together to ensure the best patient outcomes. Decisions must be made at lightning speed, often with limited information about the patient. During hectic emergency room nursing shifts, you might also experience limited support with an unpredictable patient load.
On the flip side, being an emergency room nurse can be quite rewarding and an excellent learning experience. If you think you'd thrive in ER nursing, learn more about the pros and cons of the working environment to decide whether it's right for you.
Pros and Cons of Emergency Room Nursing
James Cobb, RN, MSN, has 15 years of emergency department experience and blogs at the Dream Recovery System. He warns that some pros can also be cons.
"There's at least one pro about emergency room nursing that's the same as a con," says Cobb. "You see a wide variety of patients, and anything can roll through the doors of an ER. The good thing is it's hard to get bored, and your days are challenging. The bad thing is sometimes you wish you were bored and you feel a little too challenged."
Pro: Highly rewarding
All nurses help people, but an emergency room nurse helps people who are in urgent need. It's very rewarding to help a patient in a life-threatening situation, and the emergency room offers numerous opportunities to play a vital part in saving lives.
Dr. Hardik Soni, Founder & Medical Director of Ethos Spa, is an emergency room doctor, and he says the most important advantage of emergency room nursing is the "opportunity to help someone in need."
Lauren Mochizuki, RN, MSN and blogger at Casa Mochi, has been an emergency room nurse for 10 years. She agrees it can be rewarding because "you usually get to see fairly rapid improvement in patients' conditions as a result of your interventions."
Pro: Provides great variety
In the emergency room, no two shifts are ever the same. While you may see similar situations, you're always going to see something new. This allows emergency room nurses to regularly take on new tasks and face new challenges, which prevents boredom.
"There's a definite lack of monotony," says Dr. Soni. "This type of job has numerous tasks, and every day is completely different than the one before."
Mochizuki adds that "you get a wide variety of patients, from newborns to geriatric, facing various ailments from abdominal pain to trauma."
Pro: Numerous opportunities for learning
All the variety you face in the emergency room translates to opportunities to gain new knowledge and learn new skills. Few other nursing positions provide as much experience with such an array of illnesses and injuries.
Dr. Soni points out that it's a "great chance to learn about medicine, trauma, health, etc."
"Emergency room nurses also have the opportunity to stay current with their skills; things like IV, Foley and NG insertions are routine nursing interventions," adds Mochizuki.
Learn new skills at top health care facilities around the nation with travel nursing jobs at American Mobile.
Con: Stress
Working in the emergency room is hectic and emotionally challenging warns Dr. Soni, which makes stress, especially emotional stress, a big con. Patient care can be stressful in any nursing situation, but the constant flood of violent crime, tragic accident and other tough cases in the ER can lead to an inordinate amount of stress. It can also be emotionally taxing, which makes the emotional cost of nursing even more apparent when you work in the emergency room. This can be doubly true when a patient dies before you and your team can save them.
Con: Physically draining
Besides the emotional drain ER nursing can have on you, there's also a distinct physical drain. The constant movement can be quite draining, warns Dr. Soni, and Mochizuki adds that a good part of the shift is spent on your feet. While some people find working in the fast-paced, multitasking environment a plus, the constant stamina required to continually be on the go throughout every shift can really take its toll on your body.
Emergency room nursing isn't for everyone. There are several highly positive aspects of working as an emergency room nurse, but these are countered by some serious disadvantages. Weigh the pros and cons carefully before taking the plunge into this stressful, yet highly rewarding environment.