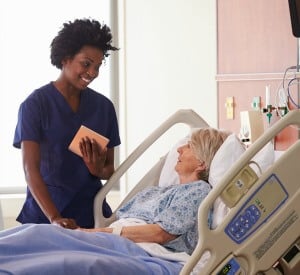 Nurse Practitioner Versus Registered Nurse: How to Choose?
Expert Advice to Decide Between an NP vs. RN Career Path
With growing demand for both registered nurses (RNs) and nurse practitioners (NPs), how does someone decide which career will be best? 
"It really depends on the individual nurse's desires and the opportunities [he or she] wishes to have in their future," said Tyke Hanisch, DNP, APRN, FNP-C, dean and associate professor at Brandman University's Marybelle and S. Paul Musco School of Nursing and Health Professions in Irvine, California. 
Each nurse has to answer the nurse practitioner vs. registered nurse question based on the factors that mean most to them.
"[Nurses] should think about the health care environment they are most comfortable in and the type of patient population they would like to serve," Hanisch said. They also need to consider whether the extra education to become a nurse practitioner is something they are ready to pursue.
PICK YOUR next workplace with a travel nursing job from American Mobile.
Deciding Nurse Practitioner vs. Registered Nurse can happen early or late career
Melissa Richardson, DNP, RN, FNP-BC, family nurse practitioner and adjunct professor at Monmouth University in West Long Branch, New Jersey, said that some nurses know when they start nursing school that they want to be able to diagnose and treat as an NP. Others return to school, seeking an advanced degree, but often are not sure whether a nurse practitioner track or another option would be best.  
Juanita Flint, PhD, RN, FNP-C, executive dean of health and human services at Brookhaven College in Dallas, practiced as an RN for 24 years before becoming a family nurse practitioner. She reports that she would have done it sooner had she known how much fun she would have. Yet she believes those RN years have been valuable to her as a nurse practitioner. 
"Those years gave me judgment skills and taught me acuity, and how to transition care from the hospital to be able to assist families in caring for their family members when they are sent home," Flint said. 
"All of those years [as an RN], I believe, make me a confident, evidenced-based practitioner."
Nurse practitioner vs. registered nurse roles
Registered nurses can enter the profession with a minimum of an associate's degree in nursing, but more and more hospitals are requiring bachelor's degrees for the RNs they hire.
Becoming an NP requires additional education, either a master's or doctoral degree. The coursework includes advanced health assessment, pathophysiology and pharmacology courses within a graduate curriculum, Hanisch said. 
"The additional studies, which include extensive clinical training in a specialty, expand the scope of practice beyond that of a registered nurse, who primarily works in hospital bedside nursing," Hanisch said. 
"The additional education is an investment in oneself that one will never lose, and attending graduate school creates professional networks that are invaluable in the unfolding and advancement of one's professional career," she added.
After graduating, the NP must sit for a national certification exam, before being licensed to diagnose and treat illnesses.  
"I love the extra responsibility, and I want to be accountable for my patient's care," Flint said. "That's what it's all about when you are a nurse practitioner."
Nurse practitioners enjoy more practice autonomy than nurses, but some states still require an NP to collaborate with a physician.
Healthy job growth predicted for both NPs and RNs
The Bureau of Labor Statistics (BLS) reports that the projected job growth through 2024 for all nurses is greater than the average for all occupations, but NP jobs are expected to grow nearly twice as fast as RN jobs. Nurse practitioner vs. registered nurse job growth is projected at 31 percent and 16 percent, respectively.
"The job market is excellent for nurses and nurse practitioners," Flint said. 
Richardson agreed that demand is strong for both NPs and RNs, and explained that a huge gap exists in sufficient primary care providers in the United States, which NPs can help fill. Additionally, hospitals in some areas are offering bonuses and other incentives to registered nurses joining the staff. 
Nurse practitioner vs. registered nurse salary and satisfaction
While nursing salaries vary by geographic region, the BLS reports an average annual salary for nurse practitioners of $107,460, compared to an average registered nurse salary at $68,450. 
But not all NPs make more money than RNs who have practiced for a long time in specialty areas, Richardson said. 
Money should not be the sole motivator when deciding between roles, either. It's important to find something that brings personal rewards and satisfaction, Richardson advised.
Nurses usually spend the most time with patients, and often act as the patient advocate with the rest of the medical team. 
As an NP, "you establish a relationship with patients," Richardson said. "It's a holistic approach to primary care—and rewarding. I'm glad I can be there for my patients."
What to consider
Hanisch suggests nurses imagine, "If time and money were not barriers, what would their dream nursing position be? Describe qualities of it, then make a personal evaluation of how to achieve it." 
She also suggests that nurses join professional nursing associations, like the American Nurses Association, to network and learn about nursing job opportunities at all levels. 
Shadowing someone in the role being considered can help nurses determine the right career path, Richardson said. She reinforced the continuing need for both registered nurses and advanced practice nurses like NPs, with bountiful opportunities for all levels of nurses. 
"There is a place for everyone," Richardson said. 
"Nursing is so varied. … Know your passion and let that guide your decision."
DISCOVER YOUR PASSION with a career in travel nursing. The experts at American Mobile can help you explore the U.S. and earn great benefits while you build your résumé.
•   APPLY TODAY to get started in a travel RN career
Travel jobs for NPs can be found with our partner, Staff Care.