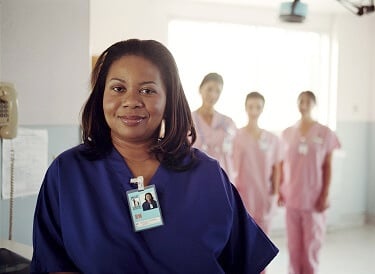 Nurse Mentor: Why You Need One and How to Make it Happen
Collaborating with a nurse mentor can be a valuable tool in your career development. Nursing mentorship brings together a more experienced nurse who acts as a guide and role model with a less experienced nurse looking for daily guidance and help with important career decisions. Although it's common to look for a nurse mentor when you're new to nursing, even seasoned pros can benefit from the relationship of a nursing mentorship.
Consider all the reasons why you need a nurse mentor, and determine your mentorship goals to find the ideal nursing professional to fill the role.
It's vital when you're new
As a new graduate, the right nurse mentor can provide you with valuable skills you can't learn in nursing school, and it's great way to jump-start your career. Lauren Mochizuki, RN, MSN and blogger at Casa Mochi, has been an emergency room nurse for 10 years and says she would have sunk without her mentor.
"What I wish I could tell all new graduate nurses, or even nurses that are new to a different department, is that you absolutely need to have a nurse mentor," states Mochizuki. "You need someone with more experience that you can go to with questions, vent to or count on to provide a shoulder to cry on. You need someone to empathize with your situation as a novice to the unit and who can help you navigate to become an expert in your field."
Provides a vital support system
"Mentorship is so important for nurses because it gives them an experienced second opinion and provides opportunities for better quality of patient care," explains Jocelyn Nadua, Registered Practical Nurse and Care Coordinator at C-Care Health Services. "A mentor is typically someone with more knowledge, career experience and access to information and resources. Through coaching and sharing their experiences, the mentor is providing new skills in new areas for the mentee to bring to their care practices. It's also beneficial because it forms a strong support system that guides nurses through this emotional, tiring and very rewarding work."
Nursing mentorship improves nurse retention
Sandy Griffin, LPN, CHPLN and Quality Assurance Coordinator at Hospice of South Louisiana points out that "nursing is one of the most demanding jobs in the healthcare field. Not only do nurses have to have the medical knowledge and expertise to treat patients on a daily basis, but they also have to have the warmth and care that's required to put patients at ease in difficult situations."
"Mentorship creates better nurses because it encourages nurses to remain in their positions and gives them someone to look to for advice and guidance," Griffin explains. "A staggering number of nurses leave their nursing position within their first year on the job, and retention is a huge problem in the nursing field."
Mentors for nurse leaders
Mentoring helps cultivate nurse leaders like Rebecca Park, a registered nurse and nurse manager from New York City and founder of the natural remedies resource, RemediesForMe.com.
"I have a mentor (nurse director) at work who guides me in my nursing and leadership career," says Park. "It's nice to have a mentor who's been in your shoes and can understand what you're going through. With their years of experience, they can guide and teach you on methods on how to deal with difficult situations or patients. They can also give you constructive criticism and be honest with you. It's important to find a mentor who genuinely wants to see you succeed in your career and grow as a professional. I trust their advice (which is very important), and it allows me to take a step back, reflect and incorporate what I learned into my future practice."
Learn new skills that can help you transition to a leadership role by exploring new travel nursing jobs with American Mobile.
Finding a nurse mentor
It may take a little time to find the right nursing mentor. While some facilities have formal nurse mentorship programs, many mentoring relationships come about spontaneously. Mochizuki suggests observing for a few weeks and then asking yourself:
Who has a nursing style that you aspire to be like?
Who is a patient advocate?
Who is not afraid to double-check orders with the doctor?
Who is kind and a true expert in the department?
"Once you've answered these questions," Mochizuki explains, "I would simply ask the nurse if they would be your mentor. Perhaps you can try to schedule your work lunches together, meet up for coffee outside of work or exchange emails or phone numbers. The role of the mentor can be a very influential, important role in your nursing career as they will provide a safe space for you to become the nurse you were meant to be."
Griffith advises that "if you're a nurse looking for a mentor, remember that it doesn't have to be a supervisor or even someone in the same clinic. Reach out to nurses who deal with similar issues and experience similar patients on a day-to-day basis. Forming this connection can help you navigate the ups and downs of the medical profession."
"Once you find someone who you admire and want to learn from, ask them formally in person," concludes Park. "Set aside time every week/month so you and your mentor can meet in person or on the phone/email. This allows for your mentor to follow up on your progress. You can also email/text/call them for daily reports, advice or questions."
Whether you are a new nurse or looking to add more depth to an established career, developing a relationship with a nurse mentor can help you stay on your path and gain valuable networking opportunities.