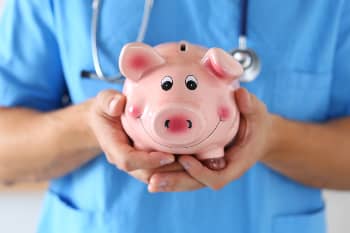 Labor and Delivery Nurse Salary
What is the Average Labor and Delivery Nurse Salary?
Labor and Delivery Nurse Salary By Experience level
Coursework prepares nurses for a majority of their job, but there are some lessons that cannot be learned in the classroom. Some nurses can recognize their obstetrician and patient's needs as if they're telepathic, or predict how far dilated a patient is based off the sound of her groaning, but this takes years of experience. Practice is essential in making good nurses excellent.
Employers take this improvement in effectiveness into account. An entry-level labor and delivery nurse with less than a year of experience can expect an hourly wage of around $25.54. As their level of experience increases, their salary will follow suit. A mid-career nurse with 5-9 years of experience earns on average $30.75 per hour. Seasoned nurses with over 20 years of experience earn on average $37.67 per hour.
Labor and Delivery Nurse Salary By Location
Labor and delivery nurse salaries vary across the country—even within states—depending on the supply and demand of nurses. Densely populated cities may offer high salaries because their nurses are busy with a high volume of patients. However, if too many nurses live in the area, it can be difficult to find an open position. Small towns that lack a supply of labor and delivery nurses may provide better benefits to attract more nurses to their community.
To get a sense of where nursing is most lucrative, here are the states and cities with the highest average labor and delivery nurse salaries.
Travel Nursing
Labor and Delivery Nurse Salary By Institution
Paths to Increase Salary
Even with the increase in pay that comes naturally with having more experience, labor and delivery nurses may discover they want to advance their careers and expand their earnings. At a minimum, labor and delivery nurses must be registered nurses. To be eligible to work, they must have earned a nursing diploma in either a 2-year associate's program or a 4-year bachelor's degree program and have passed the National Council Licensure Examination.
With further education and certifications, they can diversify their roles and qualify for higher salaries. Some employers will even provide financial assistance for nurses to continue their training.
Inpatient Obstetric Nursing (RNC-OB) credentials
Advance Healthcare Network's "2018 Nursing Salary Guide" states that non-certified labor and delivery nurse salaries average $76,614 a year while certified labor and delivery nurses average $82,992 a year. When labor and delivery nurses achieve certification, it broadcasts to employers that they are effective and dedicated in their field.
In order to obtain certification for inpatient obstetric nursing, candidates must have at least 2000 hours of experience in labor and delivery nursing practice, a minimum of 2 years of experience, and pass the National Certification Corporation exam. The exam is 3 hours long and consists of 175 questions testing knowledge and competence in obstetric nursing.
Travel Nurse Licenses
The Nursing Licensure Compact (NLC) is an agreement between 25 states allowing nurses with one license to practice in multiple states. States not within the NLC, like California, Washington, Alaska, and Hawaii, require a unique license to work as a nurse there. Travel nurses can save time between contracts and money on license fees by applying for a multi-state nursing license and working within states that are part of the NLC.
Charge Nurse
Although there are no certifications required, nurses need 3 to 5 years of clinical experience before being qualified as a charge nurse. Employers may prefer candidates with certifications in basic life support, pediatric life support, advanced cardiac life support, and CPR.
Master's Degree in Nursing
Doctorate Degree in Nursing
Doctor of Nursing Practice (DNP) programs open the door to greater opportunities and higher salaries. It isn't for the faint of heart as it takes 4 to 6 years to complete. However, for studious nurses interested in delving deep into their fields it is extremely worthwhile. According to the Bureau of Labor Statistics, in 2015 DNP-prepped nurse practitioners earned an average annual salary of $135,830.
With this terminal degree, DNP graduates can take greater control in directing patient treatment plans, conduct research to develop better health policies, hold public health office in local government, and even launch an independent practice.
Certified Nurse Midwife
Certified nurse midwives, or CNMs, are advanced-practice registered nurses who have completed either an MSN of DNP degree. In 2016, the Bureau of Labor Statistics reported the median salary for CNMs as $99,770.
CNMs take on a much more active role compared to labor and delivery nurses. Many of their responsibilities are similar to that of an OB/GYN doctor, however, they require a physician to be in the vicinity in order to carry out these tasks. In addition to delivering babies and assisting physicians with C-section births, CNMs can provide women's healthcare checkups, counseling for family planning, and prenatal care.
The Future of Labor and Delivery Nurses
A shortage in nurses is predicted to hit in the next decade with many current nurses nearing retirement age. The Bureau of Labor Statistics projects a 15% growth in all types of registered nurse positions over the course of 2016-2026. The prospects for labor and delivery nurses is looking particularly favorable with steadily increasing salaries over recent years and strong job security on the horizon.
A Labor of Love
If you're considering labor and delivery nursing as a career, salary is only one piece of the puzzle. This nursing specialty can be physically and emotionally demanding, requiring quick decision-making, critical thinking, empathy, and sensitivity. The environment can quickly become stressful, but labor and delivery nurses must maintain a level head and a calm demeanor.
Despite the challenges, labor and delivery nurses have an incredibly fulfilling role. Through a collaboration with patients, family members, and other healthcare providers, they aid with bringing new lives into the world. You'd be hard pressed to find a labor and delivery nurse that claims they chose their career based solely on the salary.
Related Specialties
NICU nurses care for infants who are born prematurely or with other medical complications by administering treatments and medication prescribed by doctors. They also provide support and education for the infants' parents.
Pediatric nurses provide general health checkups for infants, late teens, and any child aged in between. Their tasks include performing physical exams, taking urine and blood samples, measuring vital statistics, and gathering health history information. Pediatric nurses can also be found working as school nurses.
Know Your Worth