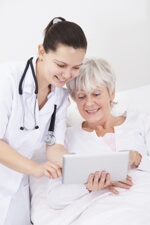 Getting Personal: How Much Should You Know About Your Patients?
Traditionally, health care has focused on medical issues, but a growing body of evidence suggests everything from physical activity and living conditions to loneliness and stress can affect a person's health. That may soon lead to nurses having to ask patients more in-depth, personal questions--and include their answers in the electronic medical record--in order to provide the greatest care.
"There is very good evidence that social aspects can affect people's ability to live a full life and comply with treatments," said Patricia Flatley Brennan, PhD, RN, professor in the departments of industrial and systems engineering and nursing at the University of Wisconsin, Madison, and a member of the Institute of Medicine (IOM)'s committee on the recommended social and behavioral domains and measures for electronic health records (EHRs).
A social/behavioral approach may include asking a patient about dietary habits and then making sure the patient has food. Depression can lead to numerous unintended consequences, but unless the clinician asks the right questions and screens for a mood disorder, it may remain undetected. A person with an unstable living situation may need a referral to social work to address housing.
The IOM committee has recommended electronic medical records be used to capture an array of social and behavioral measures, for use to identify patient problems, diagnose and treat.
"The idea is at every encounter the clinician should have available or gather information about aspects of the individual that can be managed or alter how someone gets their care," Brennan said. "It may influence the way a clinician provides care or understands what a person needs to change in their lives."
The IOM committee recommends including for the government's Stage 3 meaningful use requirements that EHRs capture a patient's:
• Race/ethnicity
• Education
• Financial resource strain
• Stress
• Depression
• Physical activity
• Tobacco use and exposure
• Alcohol use
• Social connections and social isolation
• Exposure to intimate partner violence
• Neighborhood and community characteristics
Mark Kaufman, MD, MBA, CSC medical director for U.S. healthcare, reported clinicians already collect several of these data items, including ethnicity and tobacco and alcohol use, but the IOM is looking for standardization of how the data is collected. Other areas, such as asking about intimate partner violence or finances, will take time and clinicians may find it difficult to sort out an honest answer.
"Once someone starts to open up, you are having an intervention and have to refer them or find resources," Kaufman said. "That's a burden on the caregivers."
It also could raise liabilities if the problem is identified but not addressed, he said, while crediting the IOM with not burdening the clinicians too much.
"The new information is important to maintain the overall health and predictability of health, and nurses play a big role in that," said Sol Lizerbram, DO, co-founder and chairman of the board of HealthFusion in San Diego, Calif. HealthFusion's MediTouch EHR already allows clinicians to capture the data recommended by the IOM. He cautioned that collection of such data must be done in a way that does not slow down workflow.
The implementation section of the IOM report describes two key aspects: practice redesign and efficient collection of the data.
"If we tell a patient a certain clinical strategy and they lack the resources or motivation, we are wasting our time," Brennan explained. "Think about these as special features to help clinicians tailor the care for this person."
Jean A. Hansen, CEO of Kansas City Internal Medicine, reported that the practice has been using EHR-Allscripts for seven years. At first, staff members pushed back about asking the social-history questions, because it added more steps to the rooming process. But now they see the benefit.
"It provides a start to the treatment plan," Hansen said. "It's important information to have. It was being asked by the physicians but not documented as a standard element. Now we have data and can run reports."
That has enabled the practice to identify patients in need of screenings or vaccinations. At a visit, if the patient is not eating healthy or smoking, the clinician can discuss it with the person at the visit and refer to a dietician or a smoking cessation program.
"The key part is it helps us be proactive," Hansen said.
That health maintenance benefit can help the health system obtain better outcomes at less expense.
"The EHR can be a high-quality instrument," Lizerbram said. "Technology can affect the quality of care and population management."
In addition to improving patient care, the IOM's recommended social/behavioral measurers can be used to establish policies, design health care systems, and innovate to enhance health outcomes and reduce health care costs. The IOM committee talked with nurses and physicians before recommending evidence-based measures, but is looking for more feedback, Brennan said.
"Some of the work will help us design new interventions," said Brennan, explaining that it could lead to greater preventive actions to avoid illness.
The Office of the National Coordinator for Health IT will, ultimately, decide what elements to include in the Stage 3 meaningful use requirements.
© 2014. AMN Healthcare, Inc. All Rights Reserved.