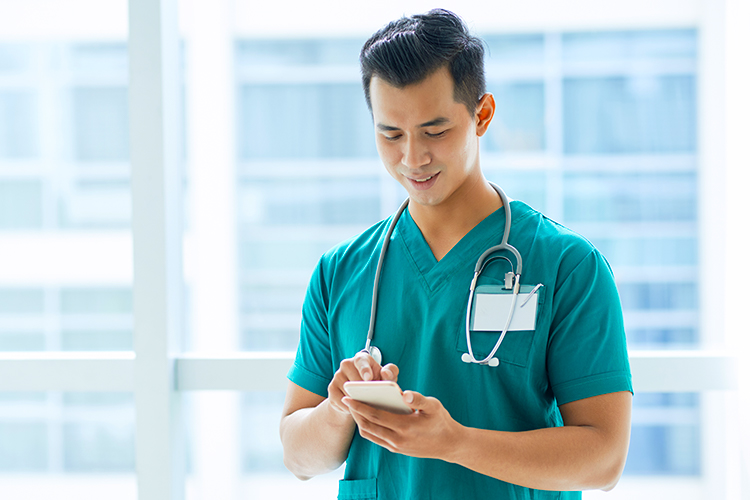 Five Factors Affecting the Job Outlook for Nurses
"Even hospitals are looking for nurses, new graduates as well as experienced nurses," said Donna Cardillo, RN, MA, CSP, a keynote speaker, columnist and author of The Ultimate Career Guide for Nurses and other career resources based in Sea Girt, N.J. "I am hearing talk of sign-on bonuses and other things, all indications the job market is shifting and opening up significantly."
The Bureau of Labor Statistics reported that it expects healthcare occupations will grow 16% from 2020 to 2030 which is much faster than the average occupations. It's expected to add about 2.6 million new jobs.
"There is a huge issue with supply and demand," said Mary Clarke, PhD, RN-BC, a Kaplan University School of Nursing adjunct faculty member for the RN-BSN program.
Some of the trends impacting jobs for nurses this year:
More nursing jobs outside the hospital
While hospitals are expected to remain the largest employers of nurses, care is shifting to the community, opening up more jobs for nurses in ambulatory care, home health and long-term care.
"The old model of nurses having to start in the hospital and only working in the hospital is not relevant or practical," Cardillo said. "Anything outside of acute care is a great idea, because that's where health care is moving. I tell new nurses, 'Look into ambulatory care and you will be ahead of the curve.' That's where the jobs are going."
AMN Healthcare's 2015 Survey of Registered Nurses found 72 percent of nurses were aware of changing roles of nurses, and 30 percent expressed an interest in making a career move into a new or emerging role.
Interest in critical care
Hospital employers continue to need critical care nurses, which is increasing the number of nursing jobs for staff nurses and travel ICU nurses alike.
"The demand is always going to be great for critical care," Cardillo said. "Some experts are predicting hospitals will be nothing more than one giant intensive care unit."
Cardillo added that medical–surgical, pediatric, behavioral health and other specialties also are in demand.
Educational expectations higher
"Employment trends are toward nurses with a bachelor's degree or higher," added Stacy Gropack, PT, PhD, FASAHP, acting dean of the School of Health Professions and Nursing at LIU Post in Brookville, N.Y., which started a new entry-level BSN program. Clarke agreed.
The Institute of Medicine's Future of Nursing: Leading Change, Advancing Health report emphasized the importance of a well-educated nursing workforce. Additionally, many hospitals hold a Magnet designation or are pursuing one, which requires a certain percentage of nurses be BSN-prepared, and research shows better outcomes with more highly educated nurses, Cardillo explained.
Focus on people skills
Clarke added that employers need nurses who can think and exercise good judgment.
"Skills can be taught, but they need nurses who can critically think and clinically reason," Clarke said. "Many organizations have implemented residency programs and simulated orientations to achieve this goal."
Cardillo agreed, saying employers are interested in a nurse's emotional intelligence, good communication and social skills; they want to fill RN jobs with candidates who can conduct themselves well.
"It's not enough to be a good clinician, you need to communicate with people and have other skills," Cardillo said.
Looming nurse retirements
"Another employment concern is the large number of RNs retiring, including faculty," Clarke said.
Gropack agreed retiring faculty, with PhDs, is posing a problem. Without enough faculty, educating the next generation becomes more challenging.
AMN's 2015 RN survey found 62 percent of nurses age 54 or older were thinking about retiring.
Cardillo downplayed the retirement issue because she feels baby boomers are changing the norm, continuing to work long past traditional retirement age. Boomers may not retire from their RN jobs as long as they are able to contribute, but they may move away from the bedside and into case management and other positions.
Some nurses nearing retirement may try travel nursing as a flexible option, with assignments ranging from 4-13 weeks in their location of choice. The free housing and competitive compensation packages give retiring nurses the chance to use their experience while exploring new cities or spending time with extended family, including their adult children and grandchildren.
"Many of us want to work," Cardillo said. "We don't see any reason not to be fully engaged in life and use the great knowledge we have."
Improve your job outlook with American Mobile. Find out more about your career options or search our extensive database of travel nursing jobs.