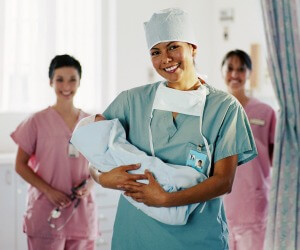 Baby-Friendly Hospitals Start with L&D Nurses
Most labor and delivery nurses and postpartum nurses would say they follow "baby-friendly practices." Yet some hospitals have made the definition more official through a global program that encourages breastfeeding and bonding between mother and child.
The Baby-Friendly Hospital Initiative (BFHI) was launched by the World Health Organization (WHO) and the United Nations Children's Fund (UNICEF) in 1991 "to encourage and recognize hospitals and birthing centers that offer an optimal level of care for infant feeding and mother/baby bonding." 
To be designated as a Baby-Friendly Hospital, a facility must initiate 10 specific steps and renew its designation every five years. There are currently 420 designated Baby-Friendly Hospitals in the United States.
FIND labor and delivery nursing jobs and postpartum nursing jobs for travel RNs across the U.S. 
How L&D nurses incorporate Baby-Friendly practices
Promoting breastfeeding often involves education provided in prenatal care and lactation support during postpartum care. But labor and delivery nurses also play a key role during the transition that occurs during labor and birth.
"The role labor and delivery nurses play in making our hospital Baby-Friendly is huge," remarked Eileen Bagan, RN, BSN, IBCLC, head lactation consultant at Kootenai Medical Center in Coeur d'Alene, Idaho.
"One of the goals of Baby-Friendly is to have a birth without medical interventions such as inducing labor, or avoiding the use of pain medications because they can affect the supply of milk and the baby's ability to latch well for nursing."
Of course, if a mother does request pain medication, it is provided after she has received education about the possible drawbacks.
Another key responsibility that L&D nurses have is to make sure that the baby is placed on the mother's chest directly after birth. 
"After delivery, the baby goes skin-to-skin with the mother and will stay there until the first feeding is complete, whether that is 15 minutes or 90 minutes. This allows the mother and baby to bond, helps the mother to recognize feeding cues, and establishes breastfeeding from the beginning," explained Bagan.
"Even if a mother has chosen not to breastfeed, we still encourage skin-to-skin time for mom and baby." 
L&D nurses provide education and choices for parents
At Baby-Friendly Hospitals, providers educate mothers and families about evidence-based guidelines to follow to help promote breastfeeding and bonding. Mothers and families always have the choice not to follow those guidelines after receiving education.
"The one thing we don't provide a choice about is that all healthy babies share a room with mom 24/7—we no longer have a well-baby nursery," Bagan stated. "Interestingly, that is probably the thing we get the most push-back about from families."
"However, studies have shown that mothers actually get more sleep when the baby is rooming-in with them," she continued. "When the baby isn't in the mother's room, every time she hears a baby crying, she is afraid it is her baby and wonders if she should get up to check."
The Cleveland Clinic advises that rooming-in can ease the transition to home and may even help mothers avoid postpartum depression. Postpartum nurses work closely with lactation consultants to provide mothers the proper support and education during this time.
Baby-friendly practices that can be used by all
Even a hospital that isn't certified Baby-Friendly can implement baby-friendly protocols.
"Keeping mom and baby together can be initiated in any hospital. Not offering any supplemental food and drink unless medically indicated, not giving pacifiers, not taking the free samples from formula reps, providing skin-to-skin contact following delivery, educating mothers and families about the benefits of breastfeeding—all of these can be initiated at any hospital without going through the entire process of obtaining Baby Friendly certification," encouraged Bagan.
In fact, the state of California has mandated that all maternity facilities implement the Baby-Friendly Ten Steps by 2025.
The initiative's Ten Steps to Successful Breastfeeding include:
1. Have a written breastfeeding policy that is routinely communicated to all health care staff.
2. Train all health care staff in the skills necessary to implement this policy.
3. Inform all pregnant women about the benefits and management of breastfeeding.
4. Help mothers initiate breastfeeding within one hour of birth.
5. Show mothers how to breastfeed and how to maintain lactation, even if they are separated from their infants.
6. Give infants no food or drink other than breast-milk, unless medically indicated.
7. Practice rooming in - allow mothers and infants to remain together 24 hours a day.
8. Encourage breastfeeding on demand.
9. Give no pacifiers or artificial nipples to breastfeeding infants.
10. Foster the establishment of breastfeeding support groups and refer mothers to them on discharge from the hospital or birth center.
"Just making little changes, like providing the support system during labor, the education prior to delivery, the skin-to-skin contact, having staff on the floor educated and comfortable helping a mom position and the baby to latch, can go a long way toward creating a baby-friendly environment," Bagan concluded.