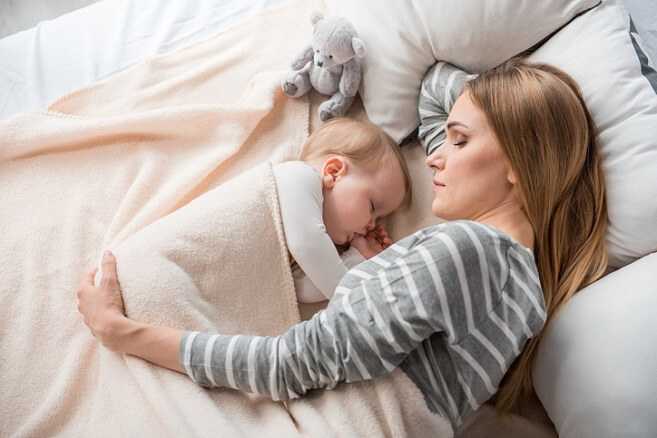 5 Tips for Juggling Night Shift Nursing and Parenthood
Night shift nursing schedules can really disrupt your daily routine, not to mention your sleep cycle, social life and home/work balance. Juggling your nursing night shifts and being a parent can be even more challenging, especially when you're a new mom. Getting sufficient sleep is vital to your health, and learning to adapt to a different sleep schedule is one of the hardest obstacles a night shift nurse must overcome. When you're struggling, these five tips may be just what the doctor ordered.
5 Night Shift Nursing Tips
Juggling night shift nursing and being a mom poses many challenges, especially if you have a breastfeeding baby. Learn how to balance nursing night shifts and parenthood with these five tips.
1. Night shift nursing and pumping
New moms who are breastfeeding may find night shift nursing even more challenging. You won't have the luxury of breastfeeding your baby at night while you're working, but you must keep producing milk. Keyona Grant at Professional Momma is a nurse anesthetist who's occasionally scheduled for nursing night shifts and regularly takes overnight call. She offers two valuable tips on pumping for nurse-moms.
"It can be challenging keeping up with a pumping schedule when you don't know when someone will be able to relieve you for a break," sympathizes Grant. "What I've found that works for me is pumping whenever I get a free moment, even if it's only for 10 minutes. This way my body knows to continue making milk and I won't be stressed about pumping.
"Another tip is to use a hands-free breast pump like the Willow or Freemie," Grant advises. "With one of these, you can pump while doing your work and you're never dependent on waiting for a colleague to relieve you."
2. Learn strategic scheduling
"Many nurses start their career working nights," says Catherine Burger, BSN, MSOL, RN, NEA-BC, at RegisteredNursing.org, "and many nurses prefer the pace and independence of the shift. However, nurses must be strategic when attempting to juggle a family while working night shift. To ensure you get at least 6-8 hours of sleep, nurse-moms must have reliable daycare for their little ones or a schedule where the kids are in school for at least that amount of time."
Donna Matthezing, RN, with Compassionate Care In the Air, has been a nurse for 29 years and spent a significant portion of that time working a night shift nursing schedule.
"The night shift works when your child is school-age," agrees Matthezing. "You sleep while they're in school, then you're there for the after-school stuff and evening homework and activities. Does your sleep pattern get messed up … YES! Do you find yourself tired ... YES! But you still get to spend the most time with your child. Moms get good at being tired and still getting stuff done!"
3. Set up a support system
Going hand in hand with strategic scheduling is setting up a support system. Burger advises night shift nurses to find a reliable neighbor, friend or family member who would be willing to act as the "first call" person for your child's school or daycare. With this support in place, you can turn off your phone, remove a potential obstacle to getting the right amount of sleep and allow your brain to truly rest.
4. Prepare the night before
As Burger points out, most night shift nurses with children stay up for a few hours upon returning home from work to get the kids off for the morning. This allows nurses to spend some time with their family and unwind from the job, which often helps them sleep better. However, depending on when you get home, this morning routine could be hectic.
Many Hale, VP of Nursing at DaVita, a kidney care company, and mother of two, just finished her doctorate and completed a marathon. This super nurse-mom has several tips to overcome a frenzied morning routine by preparing for as many morning activities as possible the previous night, before you head out to work.
"Lay out school clothes and pack sports bags and lunches the night before," advises Hale. "Determine what everyone wants for breakfast the night before to avoid disappointment and time spent on recovering from said disappointment. Keep shoes by the front door. Nothing makes a morning crazier than kids who can't find their shoes!"
5. Remind yourself of the fringe benefits
While this tip doesn't necessarily help with your balancing act, it can improve your mood and help you make it through a difficult period. Anytime you're feeling particularly fatigued and/or cranky, think about some of the probable benefits of night shift nursing schedules. A potentially big perk is you may receive a higher salary than comparable day shift nurses, because the night shift is less desirable. If you tag-team with your spouse, then you're likely saving a ton of money in daycare costs. Depending on your specific work schedule, there's probably less traffic on the road, which is especially nice if you have a long commute.
Talk to your colleagues who also have children and trade tips, then use what works for you to create the ideal work/home life balance. Being a nurse is a very rewarding career, but your number one job is caring for your family. However, armed with these tips and a little help from trusted friends and family, you can successfully juggle night shift nursing and parenting.